How Our Product Labeling Helps Customers Buy Smarter & Retailers Sell More

We put a lot of thought into the way we designed SFX Fireworks labels.
Our main goal in creating our labeling was to provide customers and retailers an easy way to understand what's going on inside the box.
So, let's break this post down into two parts: how the customer benefits and how the retailer benefits.
How the Customer Benefits From Our Labeling
SFX product labels are broken down into two parts: design and information. You'll probably notice from the photos on our product pages that our label designs add a level of professionalism and taste that can be hard to find from other fireworks manufacturers.
Through our experience in the industry, we've found that customers want accurate details that can help their buying decisions. That's where our Effect Snapshot panels come in.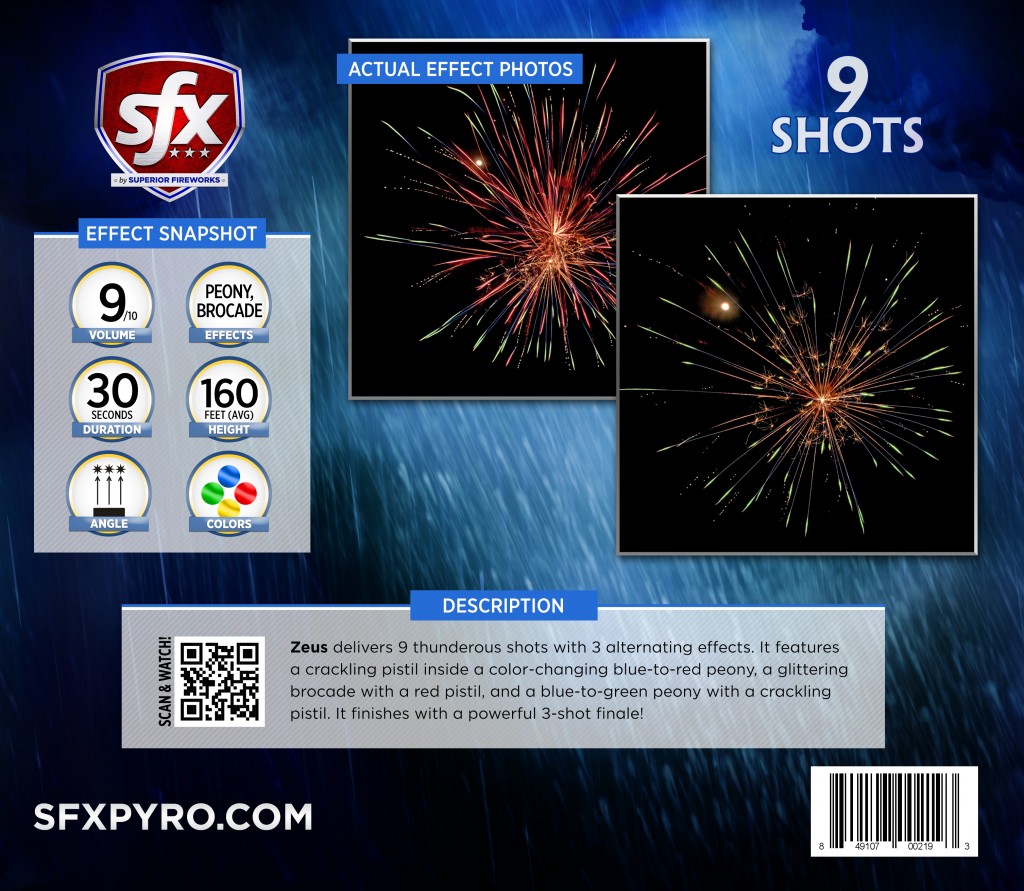 The effect panels we've designed shows (in about 10 seconds) all the details our customers usually need: sound level, effects type, duration, height, launch angle and colors. We even include actual photos from the product -- not stock images -- and a QR code that can be scanned from a smart phone to watch the video.
The benefit to our info panel is that consumers no longer have to be overwhelmed by what we call "indistinguishable" choices – products whose labeling is ambiguous and doesn't differentiate it from everything else on the shelf.
How Resellers & Retailers Benefit From Our Labeling
There are a couple of benefits here. First, because most fireworks on the shelves don't offer the customer a lot of information, it can be hard for employees to describe them without memorizing dozens or even hundreds of product descriptions. That can make a stand or business look bad.
Customer Self-Help
When a customer can quickly learn about products, they are more confident about their choices and require less time from sales staff. In fact, we've seen customers help other customers by watching videos together on their phones. Now you've created a community experience. That's a win.
Knowledgeable On-Site Staff
Our information panel also gives fireworks stand or store employees a quick way to understand what a product does. With that information, they can give the customer a pretty detailed explanation of the product. This is especially helpful for seasonal employees who might otherwise be overwhelmed by having to learn what every product does.
And again, when customers know exactly what they're buying, the feel like they're better equipped to make a decision.
Family-Friendly Designs
Another aspect of our labeling that we mentioned earlier is design. As most retailers know, it's hard to find a big-name brand who produces packaging that has a professional feel. As a result, some customers (families, especially) can be turned off by all the skulls, guns and even adult-themed products that end up on the shelves.
Our label designs are professional and well thought out. We manage to create a visually-captivating product without sacrificing style. The end result? Resellers can stock their shelves with SFX Fireworks knowing they get great shelf appeal and are equipped with specific product information.
In a Nutshell: Solid Information and Design
Each SFX Fireworks product features excellent design and accurate information. To learn more about our individual products head to the products page where you can watch videos and get all the important information.
overall rating:
my rating:
log in to rate