Production Update: New 2018 Fireworks

SFX Fireworks and The Great American Fireworks Co. are on target to deliver an impressive 18 new or updated items for the 2018 fireworks season! SFX Fireworks continues to set the bar with high quality fireworks featuring the very best in colors and effects, while The Great American Fireworks Co. has expanded its classic line-up of firecrackers, bottle rockets, and more.
2018 Early Arrivals
We strive to provide our resellers with innovative and timely products to support their retail efforts. To that end, we completed production for over half of our new 2018 items in the fall of 2017, in time to support the New Year's fireworks season. Each of these are available for immediate distribution: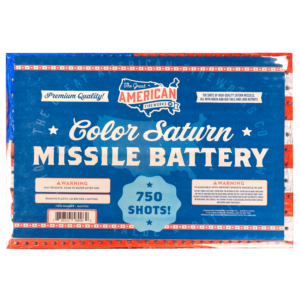 Our new Color Saturn Missile Battery delivers 750 shots of whistling missiles with green and red tails to reports.
Bold City delivers 6 bursts of 5 shots, featuring angled, sea-blue comets and gold, strobing mines to aerial breaks of golden strobe with colorful stars that alternate between green and red on each row. The final shots include delay-crackling mines to gold strobe with green and red stars.
Full Bore is a 4-pack of powerful 5-ball Roman candles with assorted effects:
Crackling
Gold Glitter Willow
Red with Silver Glitter
Brocade Crown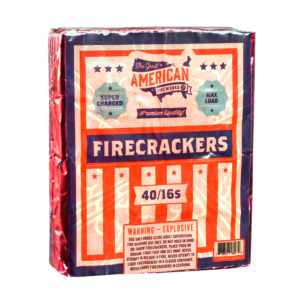 This half brick firecracker contains 40 packs of 16 firecrackers with attractive "Great American" branding and red foil wrap.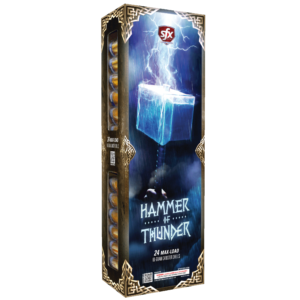 UPDATED FOR 2018!
Hammer of Thunder delivers 24 of the most powerful canister shells on the market, including 24 assorted effects with massive breaks.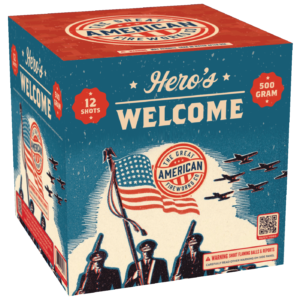 Hero's Welcome delivers 12 shots in a repeating I-V-W sequence. One red peony with silver glitter, two blue peonies with gold glitter, three brocade crowns with green stars, all with golden tails.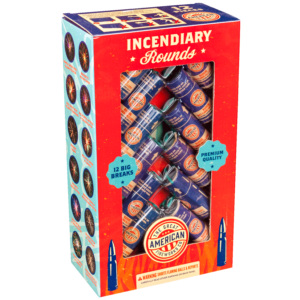 Incendiary Rounds contains 12 high-quality, 1.25″ canister shells with assorted effects. The kit includes a fiberglass tube.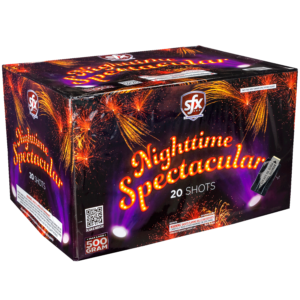 Nighttime Spectacular delivers 5 volleys of 4 shots each featuring colorful, glittering breaks with horse tail pistils, finishing with a crackling time-rain finale.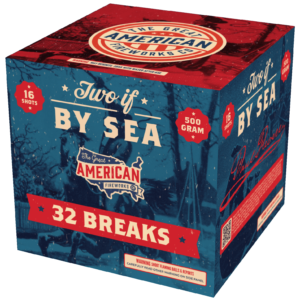 Two If by Sea features a unique performance of 16 double-break shots with spiraling, gold tails. It packs in 8 different styles of breaks for awesome variety, including: brocade crown; red and green strobe; red, green and blue burst; sky blue and white strobe; gold time-rain crackle; green burst with time-rain; purple and gold strobe; and red, sky blue and white strobe. It finishes with a grand, 4-break finale!
Early Spring 2018 Arrivals
The factories have been busy over these first few months of 2018, working to complete the remaining 2018 items. They have now completed production for the following fireworks that are expected to arrive in late March or early April:
The Barrage Candle delivers 196 shots of assorted effects, including color pearls with report and crackle.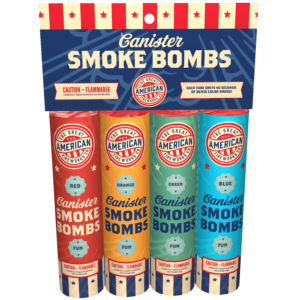 These smoke bombs emit long-lasting red, blue, green, and orange smoke!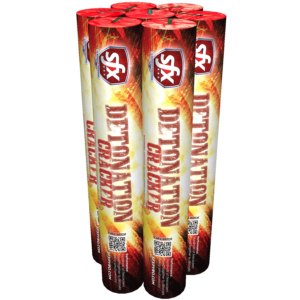 Detonation Cracker is a VERY LOUD 300 firecracker "head bomb" in which all the firecrackers go off at once!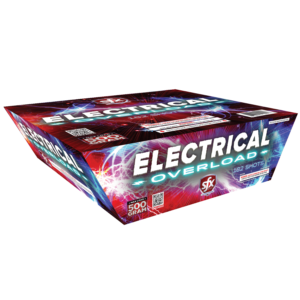 Electrical Overload blasts 182 zig-zagging shots of crackling comets with blue, purple and yellow stars, finishing with a brocade crown finale.
Missile Defense unleashes barrages of Saturn missiles into the air with whistles, strobes, reports and crackling, finishing with blasts of crackling mines.
Late Spring 2018 Arrivals
Firework production pauses every year during the Chinese New Year as the entire nation attends month-long celebrations and festivals. In 2018, these celebrations run from February 8th through March 2nd. After the celebrations are over, focus will shift back to fireworks production. We expect the last of our new-for-2018 items to be available by late April or early May. They should arrive in plenty of time to support the Memorial Day and 4th of July sales seasons.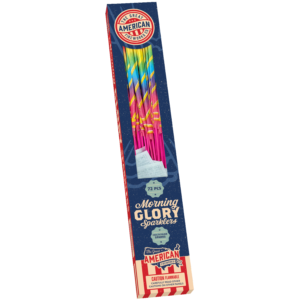 Morning Glory Sparklers, a traditional favorite, features multicolor sparks and effects.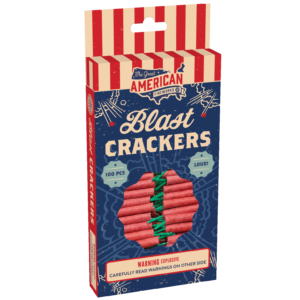 Blast Crackers are single-light firecrackers from the The Great American Fireworks Co. that come in packs of 100.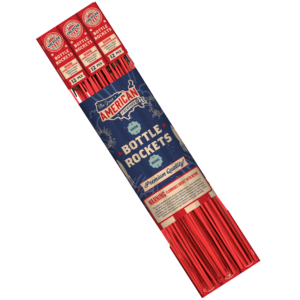 These classic bottle rockets soar through the air and deliver a satisfying pop.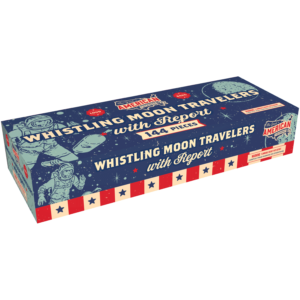 The classic whistling bottle rocket with report by The Great American Fireworks Co.
Looking Forward to 2019
We are already working on 2019 items for both SFX Fireworks and The Great American Fireworks Co! Be sure to follow us on our blog and social media channels for the very latest product information.
Contact us today for more information about how you can leverage our high-quality and diverse product lines in your own fireworks store.
overall rating:
my rating:
log in to rate